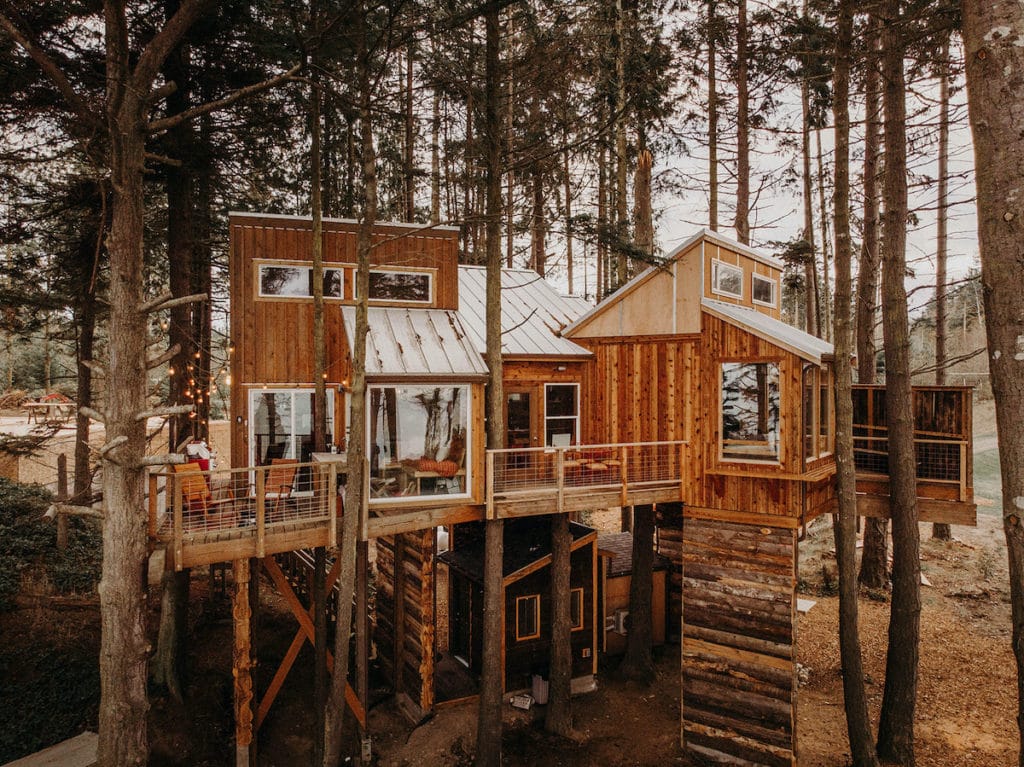 Are you planning an upcoming corporate retreat or large gathering? Our Olympic Peninsula lodging properties are the ideal rentals to create a unique and memorable event! We have seven beautiful property options on six acres, which can be rented out together for corporate retreats, weddings, family reunions, and special events. As a whole, these locations can host more than 25 guests when rented in tandem.
Twilight Beach Road in Port Angeles winds along a gorgeous bluff with the quintessential Northwest views and scenery. Stunning and lush forests, rocky and romantic beaches, and deep green waters for the Strait of Juan de Fuca. You'll also only be minutes away from fantastic dining options, hiking, and exciting adventures on the Olympic Penisula. These rental properties include Eagle's Landing, Eagle's Perch, Cedar Lodge, Twilight Meadow, Forst Hideout, Eagle's Nest Treehouse, and the Eagle's Roost.
All of these Olympic Peninsula lodging properties are fully equipped for a restful stay. These rentals include amenities like full kitchens with everything you'll need to cook in, multi-room layouts offering guests privacy, quiet and peaceful locations with views, hot tubs, fire pits, and so much more. It's the perfect place to host your next corporate retreat or gathering, and your guests will be impressed by this lovely collection of houses on the Olympic Peninsula. Look into our availability calendar, but it's best to call to arrange multiple house rentals: 360-200-6905.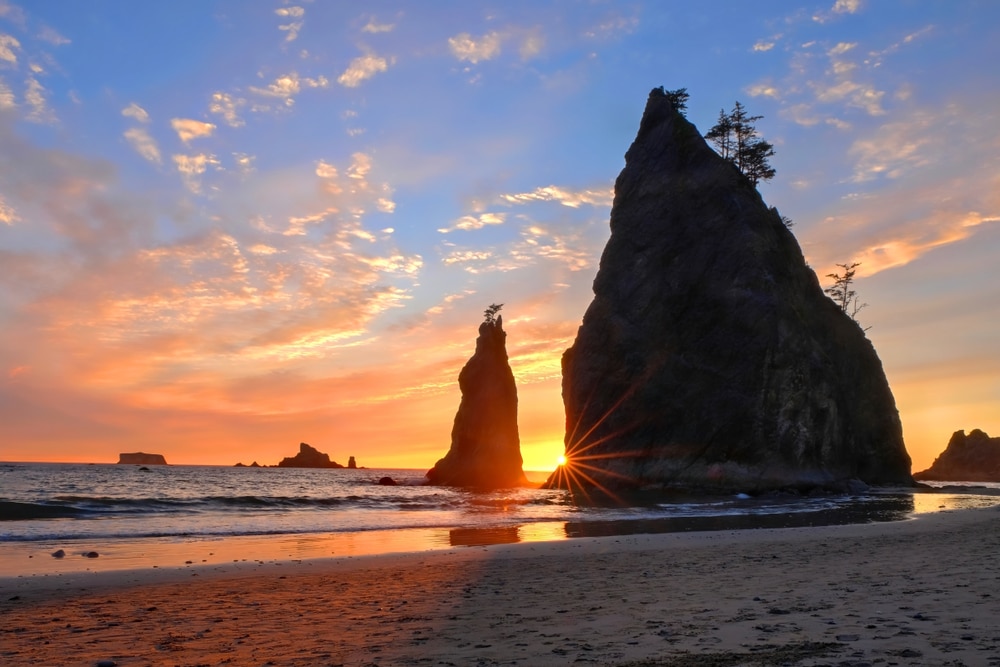 The Best Olympic Peninsula Lodging for Corporate Retreats
A corporate retreat is all about team building and bonding. Family reunions are about nourishing relationships and reconnecting. Weddings are for new beginnings and celebrations. Our Olympic Peninsula lodging collection is the perfect place to do all of these things! Below, we'll profile just a few of these properties that can be rented out as a whole block to host these more significant events:
Cedar Lodge at Woodland Bluff: Perfect for nature lovers! This lodge-style one-bed, two-bath rental features cedar paneling, wood floors, and a vaulted wood ceiling. Relax on the giant sectional sofa and enjoy luxurious amenities such as a stunning view with eagle nests outside the window.
Eagle's Nest: Escape to a unique craftsman treehouse perched 20 feet high in the trees, where you can relax while admiring the stunning Strait views. You'll be mesmerized by the passing ships as you sit in the large window seat. Every aspect of this treehouse is unique, beckoning you to unplug and enjoy all its features.
Forest Hideout: A private paradise on the bluffs overlooking the Strait of Juan de Fuca. This Olympic Peninsula lodging option perfectly blends ruggedness and modern comforts. Every detail, from the electric fireplace to the wood paneling, is carefully crafted to make your stay unforgettable.
Things to Do on the Olympic Peninsula with Your Group:
One of the perks of renting our Olympic Peninsula lodging properties for your large event is the vicinity of all the best things to do in the area. There's no shortage of bonding activities, from hiking trails and waterfalls to beaches and dining opportunities.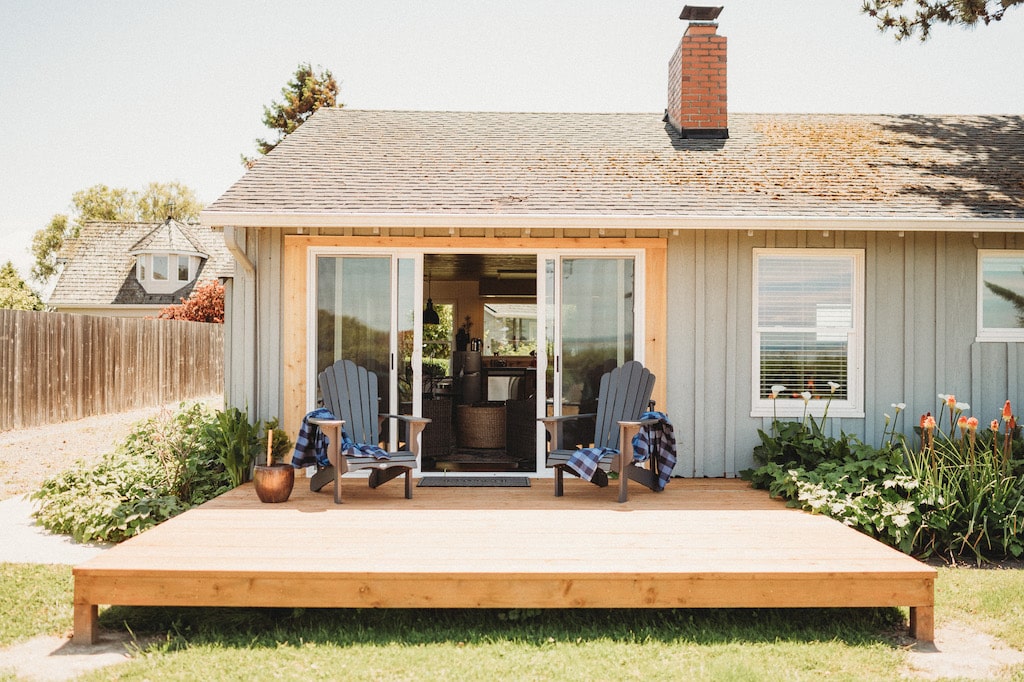 Dungeness Bay Cottages for Your Olympic Peninsula Lodging
We also have a collection of Olympic Peninsula lodging properties in Sequim that, when rented together, are the perfect venue for a smaller corporate retreat or family gathering. These six comfortable and well-appointed beachfront cabins offer the ideal blend of privacy and closeness. Each of the cabins offers a kitchen space, and all share the use of our sweeping lawns, BBQ areas, and beach access.
Each morning, you'll wake to some of the most beautiful sunrises. Get your coffee going, breathe in the fresh air, and explore our beautiful coastline. There are so many fantastic things to do in Sequim as well, so if you're planning a corporate retreat or group gathering, you can all head out to explore. In the evenings, the beach is perfect for bonfires, stargazing, and sitting in the hot tub as the sun sets on the Strait of Juan de Fuca.
Depending on your group size and your expectations, we know that one or more of our Olympic Peninsula lodging options will fit the bill for your event or gathering. Look into our booking options here, but please call 360-200-6905 to set up an entire group rental. We can't wait to host your corporate event or family gathering.