Relax at Our Olympic Peninsula Cabins
Stunning views, beachfront access, rolling green lawns, peace, quiet, and privacy, all things you'll find in abundance at our Olympic Peninsula cabins in Sequim, WA. This part of the Northwest is one of the most beautiful places in the world: sparkling waters of the Salish Sea, snow-capped craggy mountains of the Olympics, and lush, temperate rain forests. All of this natural beauty is right before your eyes at our six cozy and comfortable Olympic Peninsula cabins. 
You'll quickly see why locals have nicknamed our quaint town "Sunny Sequim." Our Olympic Peninsula cabins are the perfect location to soak up that extra vitamin D. A fun fact: this beautiful coastal town is one of the driest in all of Western Washington, with a precipitation average that's more on par with Los Angeles, CA than Seattle (which is only two hours away). These dry days are all due to our location within the rain shadow of the Olympic Mountains—shielding us from the excess rainfall. 
Our Olympic Peninsula cabins are the perfect place for a romantic retreat, girls' or guys' weekend, family reunion (book all six cottages!), or even a relaxing solo getaway. No matter the reason, you'll love strolling along the Dungeness Spit (the longest sand spit in North America), kayaking in the calm waters of the Dungeness Bay, hiking through the emerald green Olympic Discovery Trail, and relaxing in a hot tub with a view.
Start planning your next Northwest vacation and book one of our Olympic Peninsula cabins today!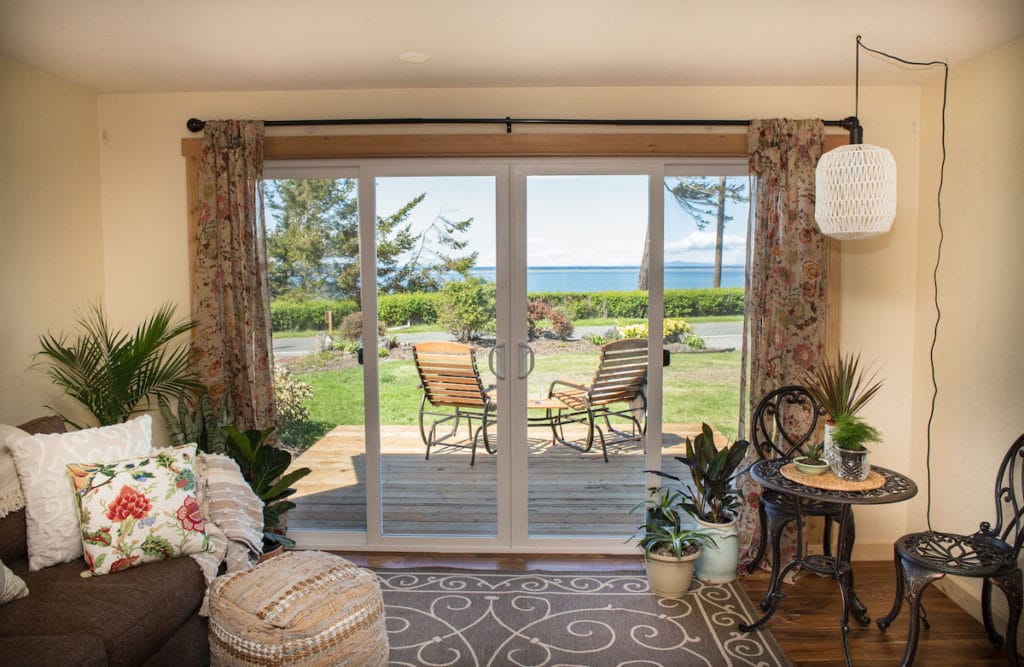 Stunning Views at our Olympic Peninsula Cabins
The geography of Sequim is unique and creates some of the best views in all of Washington State. As a guest at our Olympic Peninsula cabins, a quintessential Northwest landscape surrounds you. Perched on a bluff overlooking the Strait of Juan de Fuca—which lies within the Salish Sea and connects to the Pacific Ocean—you'll awake each morning of your stay to these sweeping water vistas. To your back lie the Olympic Mountains, home to the spectacular Olympic National Forest, an outdoor lover's dream destination.
One of the most amazing natural elements right nearby our Olympic Peninsula cabins is the Dungeness Spit. This world wonder is the longest sandpit in the nation, jutting five miles out into the Strait. This land is all part of the Dungeness National Wildlife Refuge, where more than 250 species of bird and 41 species of land mammals reside. The crowning beacon at the end of the spit is the New Dungeness Lighthouse, accessed by boat or on foot along the spit at low tide. 
When you stay at our Olympic Peninsula cabins, be sure to rent our kayaks and paddleboards to survey the area around the Dungeness Spit and view the New Dungeness Lighthouse from the water. You'll see a lot of wildlife, including seals and their pups, and if you're lucky maybe even experience a whale sighing. For those who prefer exploring on dry land, we also have a selection of bicycles (standard and electric) available—one of the best ways to tour the nearby attractions.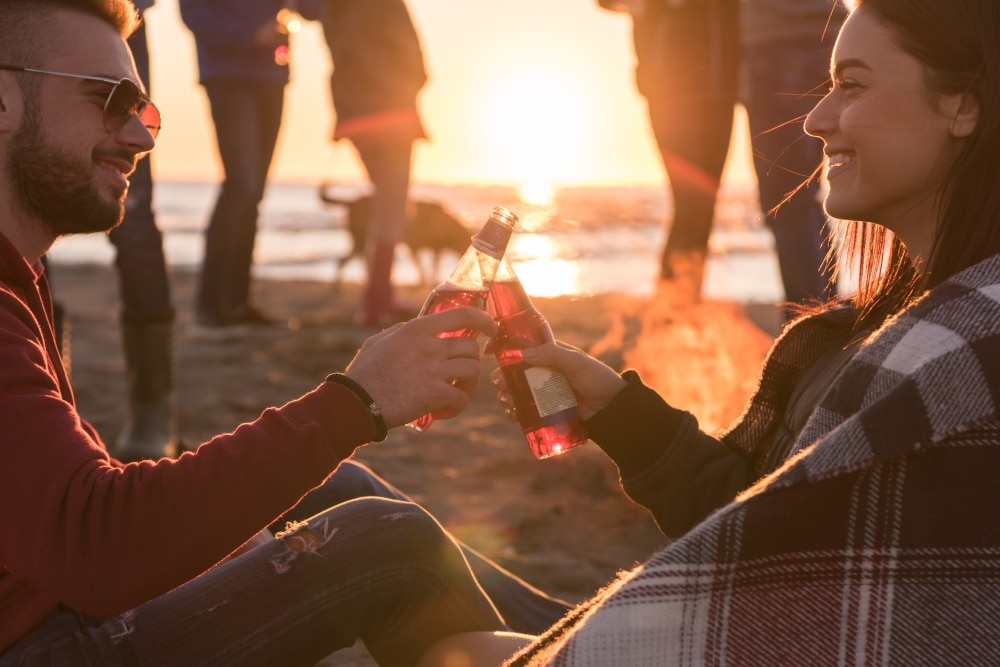 Things to do in Sequim near our Waterfront Cabins
Our Olympic Peninsula cabins are in the ideal location to explore the beach and the Olympic National Forest, but we're also right nearby the activities of downtown Sequim and the outlying areas. Here are the best things to do in Sequim, Port Townsend, and Port Angeles on your vacation in the Northwest.
Top 7 Things to do in Sequim:
 Hike at Railroad Bridge Park: This segment of the Olympic Discovery Trail cuts through the heart of Sequim. It follows the historic railroad trail through deciduous forests, over a salmon spawning stream, and to the Dungeness River Audubon Society. Stop by on your hike to see 500 species of mounted birds and other family-friendly activities. 
Shop at the Sequim Farmer's and Artisan's Market: Each of our six Olympic Peninsula cabins has a small kitchen or kitchenette for our guests to cook meals. There's no better place to find farm-fresh produce, local meats, seafood, and cheeses, baked goods, and handmade artisan wares than this long-running downtown farmer's market. Bring back your bounty and enjoy a feast at one of our outdoor picnic tables.
Wine Tasting at Wind Rose Cellar: Stop into this Washington winery's tasting room in downtown Sequim for flights, wine by the glass, appetizers, and bottles to go. They specialize in Italian varietals, many of which are rare in Washington State, be sure to taste the Dolcetto and the barrel select option. Pair that with cheese plates, smoked salmon dip, or baked brie with pesto or fig jam. 
Kayak in Dungeness Bay: As a guest at our Olympic Peninsula cabins you'll have access to our sea kayaks and paddle boards for your enjoyment. Reach the calm waters of the Dungeness Bay from our private beach and head out to take in the gorgeous scenery, seals and their pups, and thousands of seabirds.  
Beach Bonfire: Our private beach area is perfect for family-friendly activities, especially in the summer. Build sandcastles, pack a picnic, and stay on until the sun sets along the beautiful horizon. In the colder months, bundle up and watch the clouds roll in and out over the Strait of Juan de Fuca.
Smell the Lavender: Sequim just so happens to lie on the same latitude as Provence, France, which is why come summer the area is awash in purple hues. The fragrant herb grows in abundance here and you'll find a ton of local, family-owned farms offering u-pick, lavender-scented products, and plenty of Instagram-worthy photo ops. One of the closest farms to our cabins is the Lavender Connection with a charming farm store, picnic tables, and lawn games.
Exotic Wildlife Viewing at Olympic Game Farm: This drive-thru wildlife exhibit is a huge hit with the little ones (and grown-ups) to see bears, big cats, and zebras roaming free. The Olympic Game Farm is just a five minute drive from our Olympic Peninsula cabins.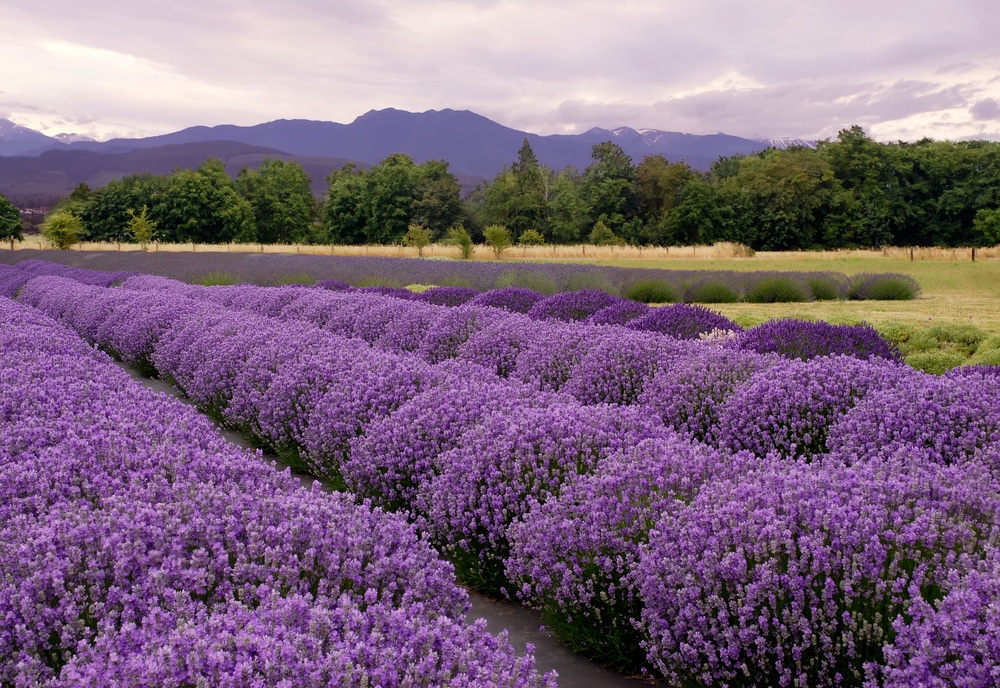 Our Favorite Things to do on the Olympic Peninsula
Thankfully, Sequim is centrally located between Port Townsend and Port Angeles—two other nearby charming coastal towns to explore on your vacation to our Olympic Peninsula cabins. Here are some of the best things to do out and about in the Northwest corner of Washington State.
Top 3 Things to do in Port Townsend: 
Fort Worden State Park: Originally constructed as a US Army Coast Artillery Corps base, this 432-acre park is a great place to head out for a day trip from our Olympic Peninsula cabins. Tour the historic bunkers, stroll along driftwood-strewn sandy beaches, and hike out to the 1914 Point Wilson Lighthouse.
Shop in Downtown Port Townsend: You won't find any big box stores in this charming Victorian-era town. The downtown area hosts a unique selection of locally-owned shops, art galleries, and cafes. Stroll along these tree-lined streets and discover homemade jewelry, stunning Northwest-inspired art, and an impressive selection of antiques and collectibles.
Head out to Finn River Cider: On your way back to our Olympic Peninsula cabins, pop over to this 80-acre organic cider farm for delicious beverages, an open-air cider garden (heated in the wintertime), and fantastic food options like rustic picnic plates and wood-fired pizzas.
Top 3 Things to do in Port Angeles: 
Salt Creek Recreation Area: This is one of the most beautiful natural areas on the Olympic Peninsula. Head here at low tide for fascinating tidepools and rocky formations in the shallows. This park is an excellent activity for families who want to fully explore the ecosystems of the Northwest. 
Hike to Marymere Falls: This is another perfect day trip from our Olympic Peninsula cabins for beautiful scenery with old-growth forests and rushing waterfalls. The well-maintained trail is just under two miles round trip with the crowning jewel Marymere Falls—a 90-foot waterfall cascading over mossy green rocks.
Wine Tasting at Harbinger Winery: There is a lovely selection of Olympic Peninsula wineries to check out on your time in Sequim, but we particularly enjoy a visit out to this Port Angeles spot. The converted logging shop turned rustic winery and tasting room creates a welcoming space for flights of their award-winning red wines, including Cabernet Franc and Grenache.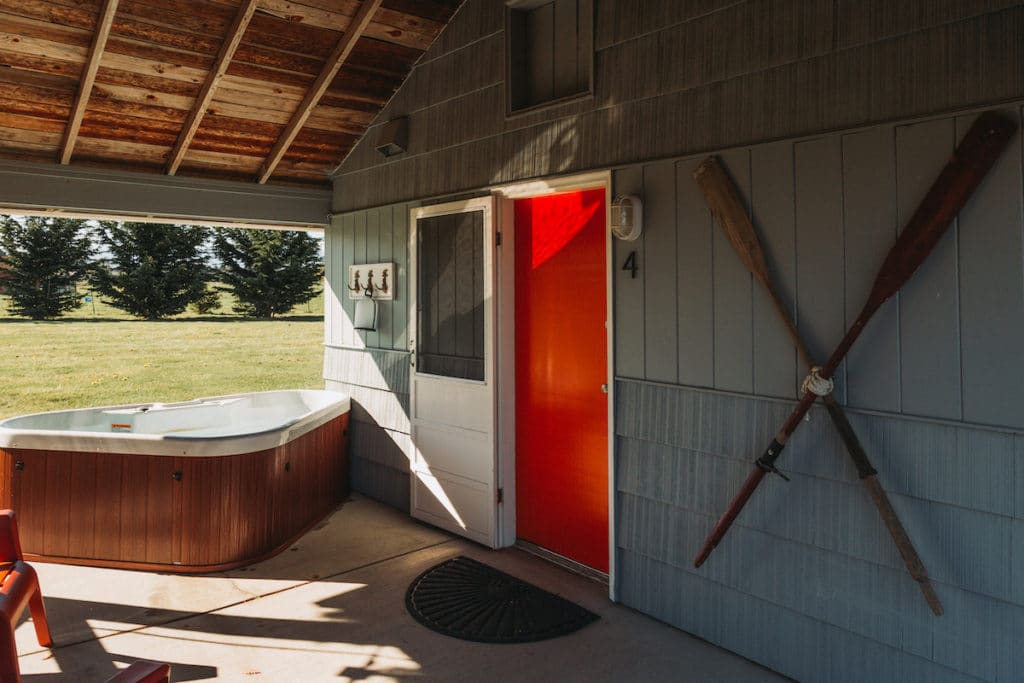 Book a Beach Vacation at our Olympic Peninsula Cabins
Imagine starting each morning of your vacation to the subtle sound of waves, birdsong,  breathing in the fresh sea air, and soaking up the crisp sunshine. Brew a pot of coffee, sit back and relax, and enjoy one of the most beautiful views in the world from our Olympic Peninsula cabins. Spend your day frolicking on the sandy beach, kayaking in the calm waters of the Dungeness Bay, or wine tasting at our local wineries. End your busy day in the hot tub overlooking the strait with a glass of wine in hand. 
Our six Olympic Peninsula cabins each offer the perfect space to enjoy a Northwest beach vacation just like this. Each of our elegantly decorated cottages has all the amenities needed for a relaxing and pleasant getaway. Comfortable beds and seating areas, kitchens with all of the necessities, stunning views, and outdoor space are just the beginning. A few choice cabins have hot tubs! All guests have access to our shared sprawling green lawn for yard games, barbeques, and evenings spent by the fire pit under the stars.
The Dungeness Bay Cottages are ideal for family gatherings, romantic retreats, or quiet solo getaways. The surrounding natural beauty creates a serene and calm atmosphere, where you can't help but relax and truly unwind from the stresses of everyday life. Start planning your next exciting vacation to our absolutely breath-taking area of the Northwest and book one of our Olympic Peninsula cabins today!