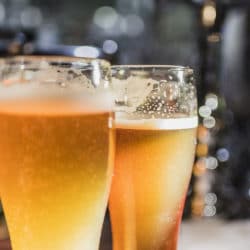 If you haven't visited Finn River Cidery yet, this fall is absolutely the perfect time to do so.  Finn River Ciders have made a big impression in the Northwest, often being served at restaurants, breweries, and bars around the area.  If you're traveling from Seattle to Sequim to stay at our waterfront cottages, you'll pass right by this incredible destination. We can think of few things better than unwinding on a sunny fall afternoon in the Pacific Northwest, sipping a Finn River Cider.  Get to planning your trip, and book your room at the Dungeness Bay Cottages on Sequim's picturesque waterfront today!
A Fresh Tasting of Finn River Cider
Finn River Ciders are produced by a local farm just outside of Chimacum, Washington. It's located approximately 45 minutes east of the Dungeness Bay Cottages. Finn River Farm has 80 acres of organically grown fields and orchards which, once farmed, are fermented and transformed into their delicious ciders.
Finn River Farm & Cidery is a fun place to spend an afternoon. Stop in around lunch, have a few drinks with friends or make some new friends, and enjoy an afternoon spent in the glorious countryside of the Olympic Peninsula. The Finn River Farm serves as a wonderful place for community gathering, and for cultivating relationships with the lands that sustain us.
The Cider Garden is open daily, year-round, and has a variety of ciders on draft. Whatever it is you've come to Sequim for, here are 3 reasons you simply must make a stop at the Finn River Cidery this fall:
Enjoy an incredible guided cider tasting with the experts at Finn River. Tastings occur either in the tasting room or seated at a table in the pavilion.
Enjoy great local food!  The Finn River kitchen serves fresh, locally sourced and seasonal ingredients daily. There are also a number of rotating food vendors that visit the cidery.
The Cidery often hosts live music on the weekends, adding to the festive environment of this charming farm.
If you're longing for more during this fall harvest season, head to Nash's Farm Store. Here, you'll find some of the best local produce around. It's a great place to pick up supplies for breakfast or dinner, made right here at our beachfront cottages!
More Tastings in Sequim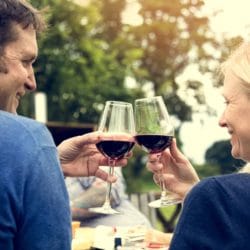 Now that you've gotten a taste of Sequim's favorite cider, you may be interested in some wine tasting, too.  There are a number of wineries between Port Townsend and Port Angeles, and Sequim is right at the heart of it all. As you travel from location to location, enjoy the unique offerings and variety of wine, cider, and seasonal delights offered. Wineries on the Olympic Peninsula include:
Harbinger Winery
FairWinds Winery
Wind Rose Cellars
Eaglemount Winery
Marrowstone Vineyards
Port Townsend Vineyards
Olympic Cellars
Camaraderie Cellars
This fall, join the wineries of the Olympic Peninsula for their Harvest Wine Tour, taking place November 9 & 10, 2019. Local wines will be paired with mouth-watering harvest-inspired appetizers, many of which will be made using locally sourced ingredients. The tour is self-guided, but tickets include a commemorative wine glass, wine, cider, and food pairings at each stop, and the chance to win a gift basket.
Best Waterfront Lodging in Sequim
When it comes to lodging in Sequim, there are a lot of choices.  None, however, offer the private beachfront access and sweeping views of the water that you'll find at the Dungeness Bay Cottages. We offer 6 well-appointed cottages, each with a full kitchen and all the amenities of home. Each cottage has exquisite views of the Straights of Juan de Fuca, and all come with the quiet tranquility you're longing for.
Sequim weather really is better than the rest of the Pacific Northwest, thanks to the rainshadow effect of the towering Olympic Mountains behind us. Come experience the difference for yourself, and book a room at the Dungeness Bay Cottages today!