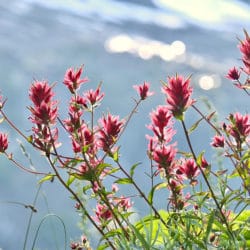 Though there is no bad time to visit the charming town of Sequim, summer days at our beachfront cabins in the Sequim Dungeness Valley are simply delightful. Sequim is nestled between the sparkling waters of the Strait of Juan de Fuca, and at the foothills of the Olympic Mountains. From here, your opportunities to enjoy the Olympic Peninsula's pristine natural world are endless.  One of our favorite things to do each summer is taking a hike into the hills and mountains beyond the town, where fields are wildflowers are blooming.  Book a room at the Dungeness Bay Cottages today, and come take one of our favorite wildflower hikes this summer.
Wildflower Hikes Near our Sequim Cottages
Though Sequim is well known for its Lavender Farms, which are truly beautiful during these summer months, there are more blooms to check out while you're in town. Wildflower hikes can range from simple to challenging, but each of them is a truly stunning way to enjoy the best of the Olympic Peninsula.  Here are 5 great hikes to take, each of which will lead you to an incredible display of beautiful wildflowers.
Relax at our Waterfront Cottages
Our private location on the beaches of Sequim can't be beat. Relax in our comfortable cottages after a long day in the mountains, enjoying the peaceful mountain and water views all around you. Relax over dinner and a glass of wine or beer, and enjoy the dramatic unfolding of a Pacific Northwest sunset in front of you. There's nothing quite like a summer evening spent at our peaceful waterfront cottages.  Come experience it for yourself, and book a room at the Dungeness Bay Cottages today!