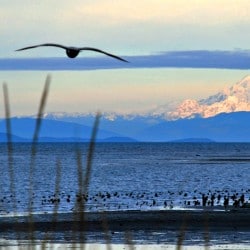 Summer vacations are special; a time for sitting back and relaxing, letting your cares and worries fade away for a short time, and making memories that will last a lifetime. Many families return year after year to the same special place. This summer, we hope you discover the magic at Sequim's Dungeness Bay Cottages, if you haven't yet already. Dungeness Bay cottages is the perfect destination for worry-free, relaxing, and memory-filled summer vacations. The cottages are nestled on a private beach, with nothing but the Straits of Juan de Fuca stretching out before you. You can do as little or as much as you want here, with downtown Sequim and the remainder of the Olympic Peninsula within easy reach. Book your summer vacation with us today.
Summer Vacation on Dungeness Bay
The Dungeness Bay Cottages are uniquely situated on Sequim's picturesque Dungeness Bay. Each unit is well appointed, with full kitchens. Step outside your door, and you'll enjoy a variety of wildlife, including seals playing just beyond shore, the occasional whale breaching in the depths of the Straits, and a variety of sea and shorebirds going about their day. A few ideas of things you may want to do while you enjoy your respite at the Dungeness Bay Cottages this summer include:
In the evening hours, our quaint cottages will be waiting. Keep your summer vacation vibes low-key, and throw a picnic or barbecue from the comfort of our property, before watching a dramatic sunset unfold before you. The simplest pleasures in life are often the best. Come share part of your summer vacation with us, and make memories that will last a lifetime. Book a room at our waterfront cottages in Sequim today.