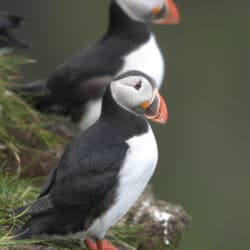 While the Lavender Festival is certainly the star of July in the Sequim Valley, there's another popular co-star. Have you ever seen a puffin up close and person? They are quite the adorable little bird, and relatively elusive and rare. They only breed in select environments around the world, and one of those happens to be just offshore from Sequim on Protection Island. Each summer, as part of Sequim's Lavender Festival and regular summer programming, there's a cruise to Protection Island to highlight these iconic seabirds. Lodging fills up quickly for the Lavender Festival, and the Puffin Cruise sells out well in advance once tickets go on sale. Be ahead of the game, and book a room at the Dungeness Bay Cottages today!
View Tufted Puffins While You're in Sequim
Protection Island is often a wonderful place for birdwatching and wildlife viewing in general, so long as you do so from a safe distance. Approximately 70% of the nesting seabird population of Puget Sound and Strait of Juan de Fuca actually nests on this small island. It's actually a protected refuge, so you aren't allowed on the island.  But each summer, Protection Island becomes a breeding ground for the elusive tufted Puffins. Sightings of Puffins aren't guaranteed on any Puffin cruise, but this is your best chance in the Pacific Northwest, as they love to nest and raise their chicks in the cliffs on the south side of the island. The island is home to one of the last 2 nesting colonies of Tufted Puffins in the Puget Sound area. The chance to catch these little birds winging and diving through the air is certainly worth it!

The Port Townsend Marine Science Center – in collaboration with Puget Sound Express – hosts special expeditions to Protection Island. On certain Saturdays throughout the spring, summer, and fall, and coinciding with annual migrations, they will make trips out to Protection Island. Check their event calendar for more details.
Each time you visit us at the Dungeness Bay Cottages, make sure you pack your binoculars. You never know what you'll see out in front of our private waterfront cottages. It's a wildlife lovers delight!  Make your plans early, and come join us this summer at our waterfront cottages in Sequim.