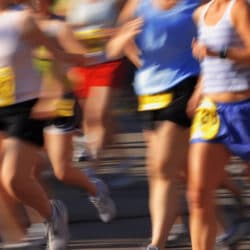 The upcoming forecast for Sequim and the Olympic Peninsula is looking fantastic. Spring is almost here, and we're finally starting to feel it!  That means, soon enough, it will be time to get out and enjoy all of those outdoor activities, like hiking, biking, and kayaking, that we may have been putting off due to cold weather.  Spring is a glorious time in the Pacific Northwest, perhaps even more so in Sequim, thanks to the rainshadow effect offered by the Olympic Mountains.  We enjoy more days of sun here than the average northwestern city, and we love it.  If you're looking for things to do this spring, why not join us for the North Olympic Discovery Marathon in June? It's an incredible journey from Sequim to Port Angeles. The Dungeness Bay Cottages is the perfect choice for lodging, nestled on the picturesque waterfront of Sequim. Book your room for the marathon weekend today!
Running the North Olympic Discovery Marathon in Sequim
The North Olympic Discovery Marathon takes place June 1 – 2, 2019. It's actually the 3rd race in a series of 5, put on by the non-profit Run the Peninsula.  The Elwah Bridge Race has already happened, but the 2nd race is coming up on April 27, 2019, right here in Sequim; the Railroad Bridge Race. The final 2 races of the year will be in October and December of 2019. Though you are welcomed and encouraged to run all 5 races with us in person, you can also participate in the race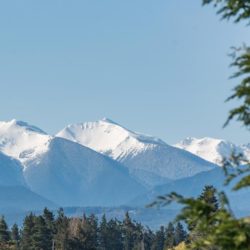 series virtually. The funds raised from these runs goes directly back into helping build, protect, grow and maintain the Olympic Discovery Trail, which is a true gem of the Olympic Peninsula.
The North Olympic Discovery Marathon, which importantly is a Boston Marathon qualifier race, takes a scenic route along the Olympic Discovery Trail. The race starts just outside of Sequim in Blyn, and ends in Port Angeles. Along the course, you'll cross over historic trestle bridges, enjoy spectacular views of the Olympic Mountains, see plenty of native flora and fauna, and enjoy a picturesque 5-mile stretch along the Strait of Juan de Fuca. It's easily one of the most scenic marathons around.
Choose our Beachfront Cottages for Lodging
The Dungeness Bay Cottages in Sequim are the perfect place to stay when you're in town for the Marathon, or any other race on the Olympic Peninsula. Our views of the Strait of Juan de Fuca and the Olympic Mountains are captivating, and the peaceful setting of our property is enchanting.  Each unit overlooks Dungeness Bay, where you'll enjoy access to your own private beach. Each unit also comes with fully appointed kitchens for your enjoyment throughout your stay. Book your stay the Dungeness Bay Cottages today, and join us this spring for the North Olympic Discovery Marathon.