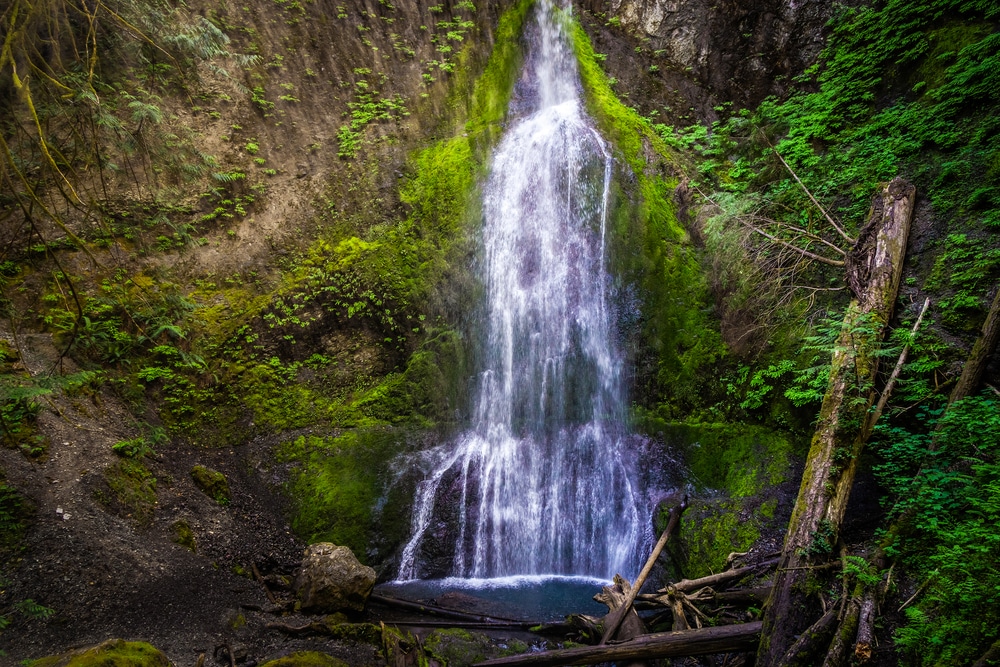 A treasure tucked away in the Olympic National Park is the easily accessible Marymere Falls. A one-mile well-maintained dirt trail accesses the waterfall. The route weaves through old-growth fir, cedar, alder, and hemlock tree varieties. You'll find clear signage for Marymere Falls and other popular trails through this part of the forest. The falls are an impressive 90-feet high, connecting the Aurora Ridge to Marymere Falls and onto Barnes Creek.
Before you start planning your outdoor adventure on the Olympic Penisula, you'll want to book your lodging, and our waterfront cabins in Sequim are the ideal place to make your home base. You'll find six individual cabins at Dungeness Bay Cottages, all fully equipped for a luxury stay. Located on a bluff overlooking the Strait of Juan de Fuca, you'll wake to stunning Pacific Northwest scenes each morning, spend your days strolling along the sandy beach, and evenings under the stars by the fire pit. Head over to our availability calendar and get your reservation on the books today!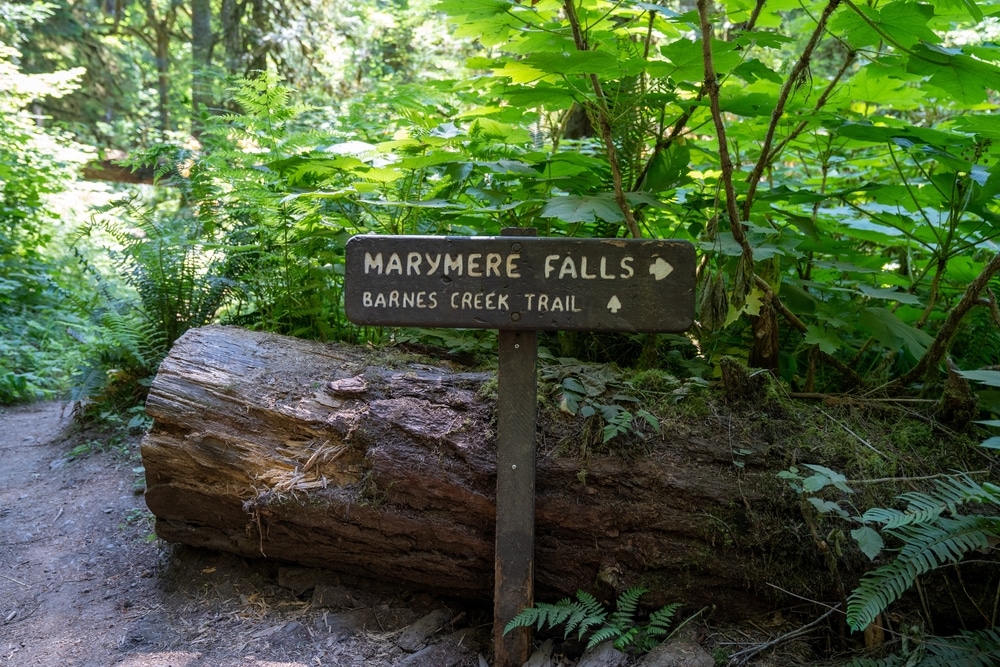 A Beautiful Hike to Marymere Falls & Beyond
The departure trailhead for Marymere Falls is located at the Storm King Ranger Station on the shores of Lake Crescent—it's just under an hour from our Sequim beachfront cabins. The paved trail will lead to dirt that is still highly maintained and easy to traverse. You'll wind your way through mossy, old-growth forests of conifers and maples, over deep ravines of ferns and bright greenery thriving from the waters of Barnes Creek.
As you approach Marymere Falls, you'll notice that the trail forms a loop for two different viewpoints for taking in the falls. The hillside looks down on the falls, whereas the lower platform offers you the opposite view of looking up the spectacular 90-foot rushing falls. At the first trail junction on your return, consider taking the downstream trail of Barnes Creek. This route heads to the historic Lake Cresent Lodge, through more spectacular old-growth forests, and connects to the family-friendly "Moments in Time Trail" along the lake's shoreline.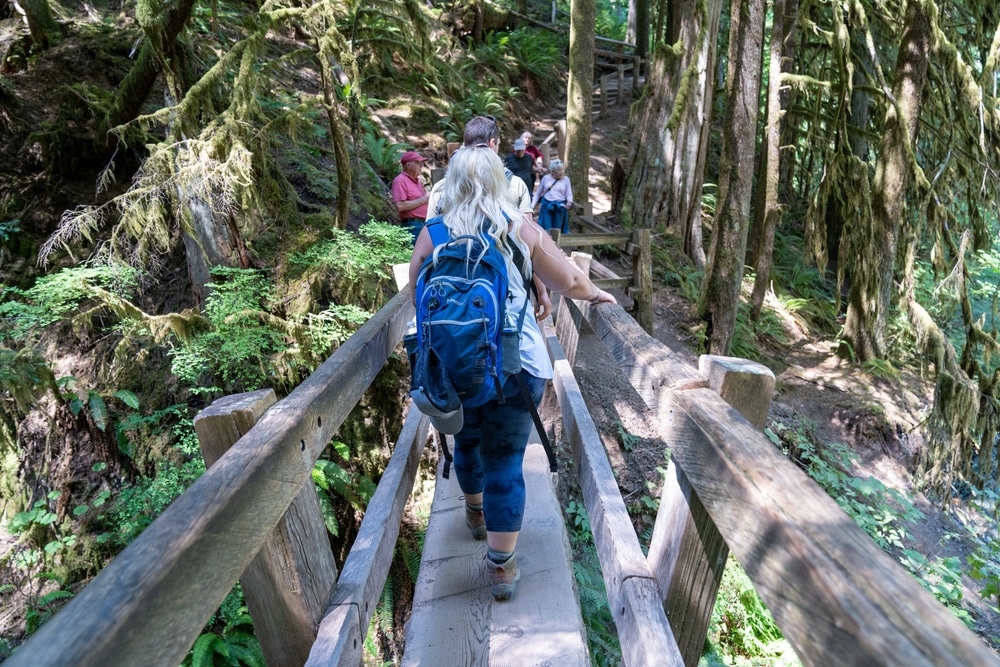 Notable Trails in the Olympic National Park:
Hoh Rain Forest River Trail: To truly experience one of the finest examples of a temperate rainforest, you must hike through the Hoh Rain Forest. Receiving 12-feet of precipitation yearly, the result is one of the greenest, lushest places on earth. One of the best ways to explore is the long 17.4-mile Hoh River Trail—of course, for a day hike, folks can walk in as long as they see fit and head back when needed.
Rialto Beach: As the most popular coastal area of the Olympic National Park, this beach area is quite a sight. There's so much to explore on this beach with beautiful rock formations, shoreline forests, and sandy alcoves.
Hurricane Hill at Hurricane Ridge: While this area is primarily used in the winter for skiing, during the warmer months, there's a great, family-friendly hike with stunning views of the mountains. The wide paved path is about 1.6 -miles and offers an expansive view you won't soon forget.

Comfortable Lodging at our Waterfront Cottages
After a long day out on the trails in the Olympic National Forest, hunting for hidden waterfalls like Marymere Falls and stunning outlooks, there's no better place to rest your tired muscles than at our beachfront cabins in Sequim. The Beach Cottage, pictured above, is tailored to help you unwind and relax. Take, for example, this state-of-the-art massage chair and a private hot tub under a covered area for year-long use, no matter the weather.
All of our six cabins are equipped with kitchens, comfortable beds with cozy bedding, and high-end touches. Each cottage has its own unique decor, many calling to nautical themes or beachy retreats. You'll fully feel transported to a private slice of paradise when you book here! Start planning and get your cabin reserved today.