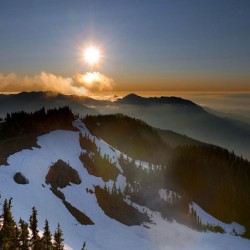 Sequim, which is located on the Olympic Peninsula in Washington, is situated in the beautiful Dungeness River Valley. To the South of Sequim are the towering snow-capped Olympic Mountains, and to the north the sparkling blue waters of the Strait of Juan de Fuca. Pilots have long-loved the flight into Sequim, and many have made Sequim their retirement home over the years, thanks to the private airports nearby and the relatively affordable cost of living. Now these incredible aerial views can be enjoyed by visitors to Sequim when you go Hot Air Ballooning over the valley. Book your room at the Dungeness Bay Cottages today, and come experience the breathtaking beauty of the Olympic Peninsula this spring.
Hot Air Ballooning over the Dungeness River Valley
Morning Star Ballooning Company offers Hot Air Ballooning trips over Sequim, leaving from the Sequim Valley Airport. It's an incredible way to gain a new perspective over the area, and a new appreciate for the wild beauty we enjoy here on a daily basis. Sequim is actually the farthest north and west you can go hot air ballooning in the U.S., making this trip quite unique. Once in the air, you'll enjoy scenic views of Hurricane Ridge, Vancouver Island across the Straits in Canada, the San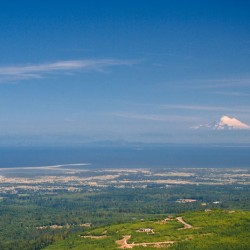 Juan Islands, Mt. Baker, and the Cascade mountain Range east of Seattle. These flights will take approximately an hour, and the basket holds up the 4 people.
You can also rent the balloon for a private ride, which is perfect for those looking for a romantic excursion during their time in Sequim. There is no better setting for an elaborate proposal, anniversary, birthday, or even intimate wedding or elopement. Private usage starts at $1200, with elopement packages beginning at $1700, and a full wedding package running $2500.  Talk about an unforgettable memory over the skies of Sequim!
Afterwards, return to the peaceful accommodations at the Dungeness Bay Cottages. Our cottages are located on our own private beach, and offer you the perfect respite during your time in Sequim. Enjoy sunrises and sunsets, afternoons of bird and marine wildlife watching, kayaking in front of our property, and so much more. At night, fall asleep to the gentle roar of the ocean waves. As spring nears, now is a great time to start planning those getaways to the sunny shores of Sequim. Book your room at the Dungeness Bay Cottages today.