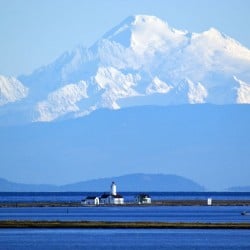 Sequim is a quaint town on the Olympic Peninsula known (at least by locals) for its relatively sunny blue skies. For many, it as a respite from the typically gray and rainy Pacific Northwest, and it's one of the many things that makes our Sequim cottages a wonderful place to escape during the winter. So many of us tend to stay indoors, out of the harsh elements of winter.  But in Sequim, we have the chance to do exactly the opposite. Whether you're looking for traditional winter activities, such as skiing, snowshoeing, and sledding, or whether you just want to take a quiet walk through nature this winter, Sequim has what you're looking for, including a walkable downtown with great shops, restaurants and cafes. It doesn't matter what the weather does in Western Washington; there's always something to do in Sequim.  Come fall in love with the charms of the Olympic Peninsula, and book a stay in our picturesque beachfront cottages on Sequim's Dungeness Bay.
How to Enjoy a Winter Getaway in Sequim
Spending time at the beach in the middle of winter is not only possible, but it's a popular things to do for Northwesterners. With the exception the few-and-far-between cold snaps that make their way down into the lowlands, winter weather usually stays in the mountains, while the rest of us enjoy the relatively mild weather and the always-accessible outdoors down here at sea-level.  It's hard to pick just 5 reasons to come visit us at the Dungeness Bay Cottages in Sequim this winter, but any more than that and you may not read them all. There's so much to explore and experience, but here are a few of our favorite things to do at this time of year:
We're just a few minutes from the Dungeness National Wildlife Refuge, where you can take your time and enjoy the scenery and its many wild inhabitants.
The Olympic Discovery Trail is always a wonderful place for walking and bicycling, as is the historic Railroad Bridge Park.
Enjoy the peace and serenity of the winter hiking that's available in Sequim year-round.
While very little snow falls in Sequim itself, Hurricane Ridge is easily within reach for a day of fun in the snow

.  This beautiful area gets an astounding average of 400 inches of snow each year, and offers stunning views, alpine skiing and snowboarding, as well as cross country skiing and snowshoeing trails.

Relax at our beachfront cottages and gaze out your window at the unparalleled beauty unfolding before you. Bring a pair of binoculars, as you never know what you'll see beyond our shores.
When you're ready for a little down time, both Sequim and Port Angeles have a wonderful variety of restaurants to enjoy and shops to peruse.  Port Angeles favorites include Bella Italia and The Next Door Gastropub, and Sequim favorites are the Oak Table Cafe, Alderwood Bistro, and Jose's Famous Salsa. Go ahead; book your escape to Sequim today!  Book your cottage retreat at the Dungeness Bay Cottages in Sequim today.