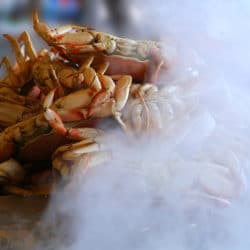 If you've been looking for the perfect opportunity to savor our local, mouthwateringly good Dungeness Crab, this year's annual Dungeness Crab & Seafood Festival might just be it. This delicious festival takes over the waterfront of charming Port Angeles each year, and has proven to be a popular event on the Olympic Peninsula.  Lodging in the area generally books up well in advance, and is the perfect opportunity for out of town guests to "Embrace Your Inner Crab."  The event offers a variety of food and activities to enjoy, along with live music to keep the atmosphere festive and lively. All in all, there will be 14 different local restaurants at the CrabFest, each offering samples of their own unique culinary creations. There's never been a better time to be from the Pacific Northwest, or at least come vacation like you're from the Pacific Northwest.  Plan well in advance this year, and book your at our beautiful waterfront cottages in Sequim for the 2019 Dungeness Crab Seafood Festival.
Your Guide to the Dungeness Crab & Seafood Festival
If you're wondering why we're talking about the Dungeness Crab & Seafood Festival so early, it's because of its popularity.  The CrabFest has been named one of the Top 100 Events by the American Bus Association, and it's also been recognized as a top festival by Coastal Living Magazine, GQ Magazine, Saveur, and others. We know our crab  up here on the Olympic Peninsula, and it seems as though word has finally gotten out. This year's Dungeness Crab and Seafood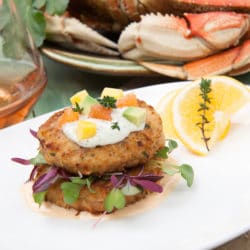 Festival, lovingly called CrabFest, will take place October 11 – 13, 2019.
If there's one thing to bring to the Dungeness Crab & Seafood Festival, it's your appetite. The schedule of events is already posted for 2019, and it looks promising. Popular returning events include the Grab-a-Crab-Derby, the Friday night crab dinner, cooking demonstrations, a 5K, and of course, the Chowder Cook-off. Admission to the festival is generally free, but tickets to the Crab dinner can be pre-purchased now, with special bonus offerings.
Why Choose Lodging in Sequim?
You may be asking yourself the obvious:  Why should you choose lodging in Sequim, if the event is in Port Angeles? We think the answer is pretty simple.  You won't find waterfront cottages like ours, with your own private beach right on the Dungeness Bay, anywhere else. The views of the Strait of Juan de Fuca and the Olympic Mountains are captivating, and the peaceful setting of our property is enchanting.  Each unit overlooks Dungeness Bay and your own private beach, and they come with fully appointed kitchens for your enjoyment. You may even choose to cook up some of that fresh crab from the festival!  Book your stay the Dungeness Bay Cottages today, and come join us this fall for the Dungeness Crab & Seafood Festival.