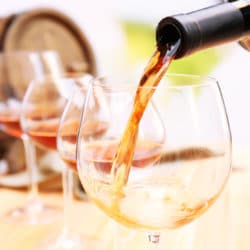 Sequim is a wonderful place to getaway this winter, especially if you're looking for a cozy and romantic place to curl up and getaway from it all. Our oceanfront cottages are the perfect place enjoy a few days of romantic respite, with unobstructed views of the Puget Sound stretching out before you. This February, join us in Sequim for the always-fun combination of Red Wine and Chocolate. The Red Wine, Cider and Chocolates Tour, a 2-day weekend event on the Olympic Peninsula, will take place over two different weekends in February:  February 9 and 10, 2019, and February 16 & 17, 2019. Tickets can be purchased online for $40 that includes wine or cider tastings, chocolate pairings, and a souvenir glass. Relish a day of artisan wines and ciders coupled with sweet and savory chocolate bites. Book your getaway to Sequim's Dungeness Bay Cottages today.

2019's Red Wine, Cider, & Chocolates Tour
Each weekend of the Olympic Peninsula Wineries & Cideries Red Wine, Cider, & Chocolates Tour will provide a different experience, each designed to delight your senses. Our regional wineries and cideries have released their new varieties and have some delectable culinary offerings, with the intention being to help you fall in love with every sip and taste along the way. How great does that sound? Once you've visited all nine sites listed below and received a stamp on your ticket, you'll also be entered into a drawing to win a love-inspired gift basket. Here are the participating venues:
Harbinger Winery The chocolate pairings enhance their mission "to craft incredibly drinkable wine".
Camaraderie Cellars

Sip their wines in a lovely garden setting, while sampling  cocoa-spiced pulled pork cooked in a wood-fired oven.

Olympic Cellars

Will introduce two new luscious red wines (a 2014 Carmenere and 2015 Cabernet Franc) paired with Sequim's "

We Do Fudge

".

Wind Rose Cellars

They boast award winning Italian varietals wines, in addition to a full-service bistro.

FairWinds Winery

Celebrated for their delicious Cabernet Sauvignon, Cab/Merlot, Merlots, and Ports.

Port Townsend Vineyards

Excite all five senses, while savoring delectable chocolates with their full-bodies reds.

Eaglemount Wine & Cider

Sample their wine, hard ciders and meads within a beautiful tasting room alongside 12 scenic acres.

Marrowstone Vineyards

Sip their 2015 Cabernet Sauvignon and a Sauvignon Blanc from the 2017 harvest, while perfectly paired with chocolate prepared by

Port Townsend Chocolate Company
Finnriver Farm & Cidery

Savor fine hard ciders and fruit wines within a rustic tasting room, among an 80 acre organic farm.
February is a month to let your inner romantic shine, and there's no better place to do that than our beach front cottages in Sequim. Come stay with us, and experience this unique wine, cider, and chocolates tour while enjoying the beautiful winter scenery of the Olympic Peninsula. Fall in love with the Peninsula's shimmering coastline, snow capped mountains and gorgeous forests, and leave with the desire to visit us time and time again. Book your getaway to the Dungeness Bay Cottages today.