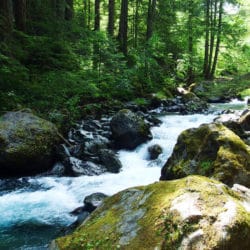 Though it makes us sad to admit, summer is officially gone, and we've entered fall in the Northwest; the season of crisp, chilly mornings. Luckily, in Sequim, we're equally as likely to enjoy sunny afternoons, thanks to the Olympic Mountains and their rainshadow.  Sequim enjoys an incredible 250+ sunny days every year, which means there's never really a bad time to visit us at the Dungeness Bay Cottages in Sequim.  When the rest of Western Washington turns to indoor activities, we head outside to enjoy places like the Dungeness River Audubon Center and Railroad Bridge Park. Book your rooms at the Dungeness Bay Cottages, and come explore the best of Sequim with us this fall!
Railroad Bridge Park
You have probably heard of the relatively new Olympic Discovery Trail. If you've ridden it through Sequim, then odds are you know of Railroad Bridge Park, as the trail runs right through the park. Railroad Bridge was built in 1915 by the Milwaukee Railroad, and was heavily utilized between 1915 – 1980.  This railway was later abandoned, leaving behind only what is now known as the Railroad Bridge. It's actually one of the few remaining wood truss railroad bridges. Unfortunately, it was damanged in 2015 during a really bad storm. It has since been replaced by a new steel structure, and we think it's still just as impressive as before.
Dungeness River Audobon Center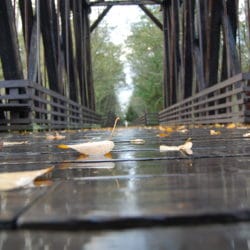 Railroad Bridge Park is home to the Dungeness River Audobon Center, which is a delightful place for birding and bird walks. They also host spectacular exhibits of local birds and wildlife, and provides on-site environmental programs for adults and children. There are short trails in the park for day use.  We're coming up on the 20th annual Dungeness River Festival on September 27 & 28, 2018. There are also guided Wednesday Bird Walks, and frequent community events at the Dungeness River Audubon Center. It's just one of the many incredible community resources we have available to us in Sequim.  Book your room at the Dungeness Bay Cottages this fall, and come explore this gem of a park with us.