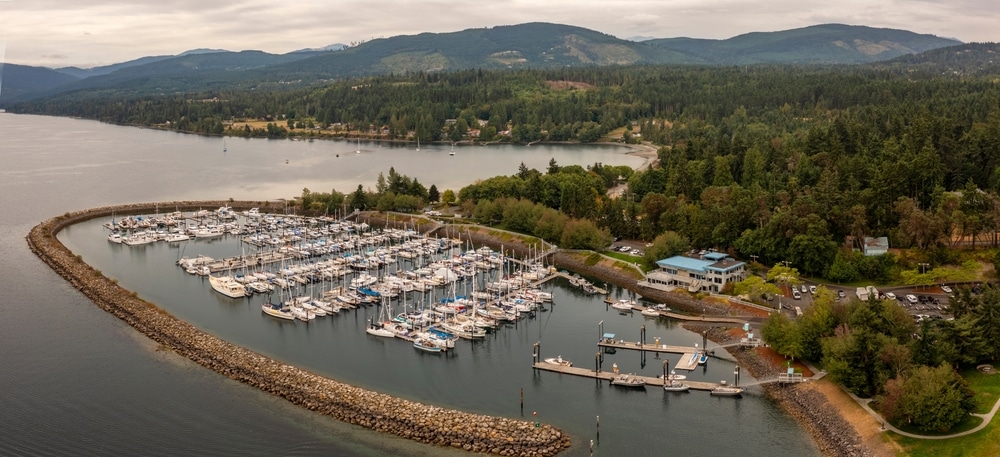 There's certainly no shortage of things to do in Sequim all year round! In fact, each season has its draw to our charming community on the Olympic Peninsula. Winter is cozy and best spent indoors, and Spring means crisp sunny days and wildflower hikes. Summer is often considered the best time to visit sunny Sequim for the perfect Northwest weather and a long list of local events. And autumn offers stunning fall foliage and blustery days where a warm latte is as welcome as a pair of gloves.
Sequim is located in the rain shadow of the Olympic Mountains, protecting it from much of the wetter weather Washington is known for. This gorgeous scenery sets a beautiful backdrop for hiking, biking, and walking along the beach; it's not surprising that most of the best things to do in Sequim include outdoor adventures. But this area is also known for having fantastic restaurants, local Washington wineries, craft breweries, cideries, and more.
Before you start filling your itinerary with all the best things to do in Sequim, WA, you'll want to secure your lodging. We have the perfect Airbnb in Sequim for you! Our six comfortable and well-appointed beachfront cottages in Sequim, with full kitchens and a long list of complimentary amenities, are the best places to stay on the Olympic Peninsula. Each cottage overlooks Dungeness Bay from ample windows, and you'll be just a quick walk to your private beach. Reserve your cottage in Sequim today!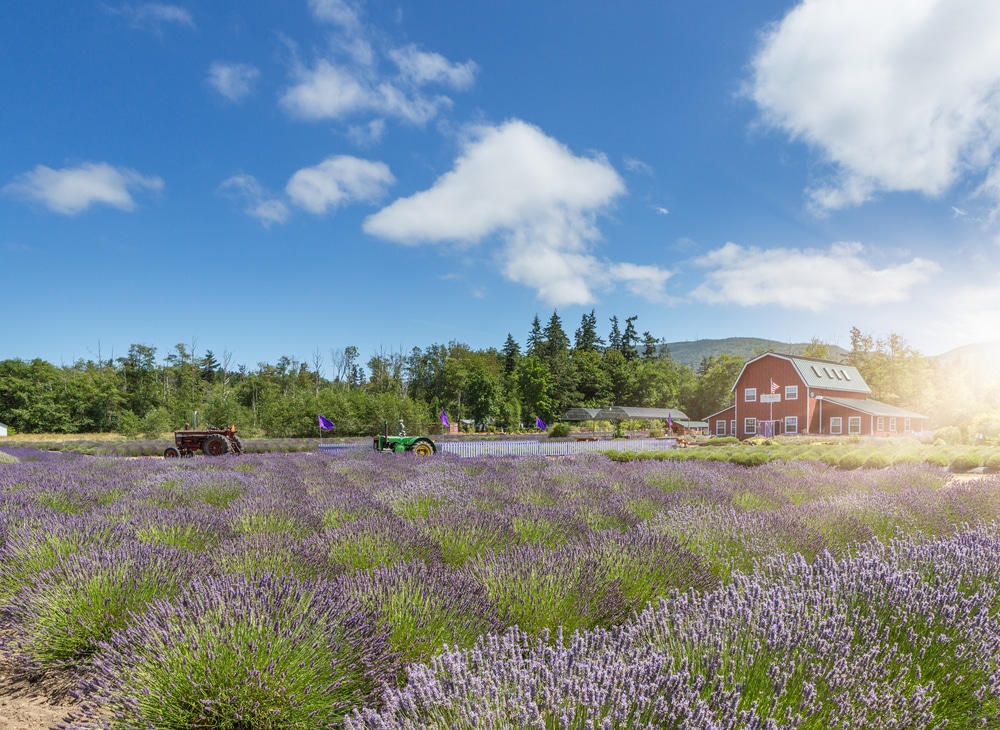 The Ultimate List of Things to do in Sequim This Year
While Sequim records more dry days in Washington than many other small towns on the Olympic Peninsula, it's as lush and green as ever. You'll find an abundance of incredible hiking trails, open and maintained bike trails, calm waters for kayaking, and so much more. After your full days of outdoor adventures, there's nothing quite like that first sip of Washington wine or a craft beer. You've earned it!
Here are our favorite things to do in Sequim this year:
Hike to the New Dungeness Lighthouse: Located five miles down the Dungeness Spit; this lighthouse can be reached by hiking along the beach or by boat. We suggest heading there by sea kayak! You can also hike down to the Dungeness Bay National Wildlife Refuge and explore the protected habitat for birds and wildlife in the area.
Untouched Beauty at the Olympic National Forest: Explore old-growth forests, temperate rainforests, and more than 70 miles of wild coastline at this giant national forest and park. Hiking through the lush forests and diverse ecosystems is by far one of the best things to do in Sequim. Multiple trailheads begin in Sequim and lead to breathtaking vistas of the valley, Olympic Mountains, and Strait of Juan de Fuca. Our favorite hikes include the Upper Dungeness River, Mt. Townsend, and Lower Grey Wolf River.
Hiking at Hurricane Ridge: Head a little further west and visit Hurricane Ridge in Port Angeles. It offers some of the best mountain views, and there are plenty of hikes through wildflower meadows and scenic overlooks. This is also a fantastic skiing spot in the winter.
Discover Downtown Sequim: The charming downtown area of Sequim has everything from adorable local shops and boutiques to cafes and seafood eateries. Take a stroll, grab a latte, and mingle with the locals. A few Sequim restaurants not to miss are Salty Girls Seafood, Nourish, and the Alder Wood Bistro.
Wine Tasting at the Olympic Peninsula Wineries: Sequim is located centrally between Port Angeles and Port Townsend, putting you in the best spot to explore the nearby wineries. Wine tasting is one of our favorite things to do in Sequim and the best way to get an authentic taste of Washington! Check out Wind Rose Cellars and Port Townsend Winery.
The Annual Sequim Lavender Fest: Each July, Sequim, also known as the Lavender Capital of North America, comes to life when the fields bloom in a rainbow of purple hues. Check here for upcoming summer events.
Bike on the Olympic Discovery Trail: If you don't bring your own bike, you can rent one locally or borrow one of our e-bikes on-site at our Airbnb in Sequim and head out for an adventure on this amazing trail. It could be a full-day adventure with a long ride or broken up into multiple-day trips.
Birding at the Audubon: Enjoy catching sight of some beautiful birds at Sequim's Railroad Bridge Park, home of the Dungeness River Audubon Center. Always one of the most relaxing things to do in Sequim.
Head out on a Scenic Drive:  Sequim is the gateway to the Olympic Peninsula and the stunning beauty awaits you in the Olympic National Park and beyond. Add a scenic drive to your list of things to do in Sequim—especially pretty in the autumn months when the trees turn from green to gold.
Soar Over the Valley by Hot Air Balloon: Take a hot air balloon ride over the stunning Sequim Valley, where you'll enjoy 360 degrees of breathtaking mountain and water views. Morning Star Balloon Co. offers scenic tours over the Olympic Penisula.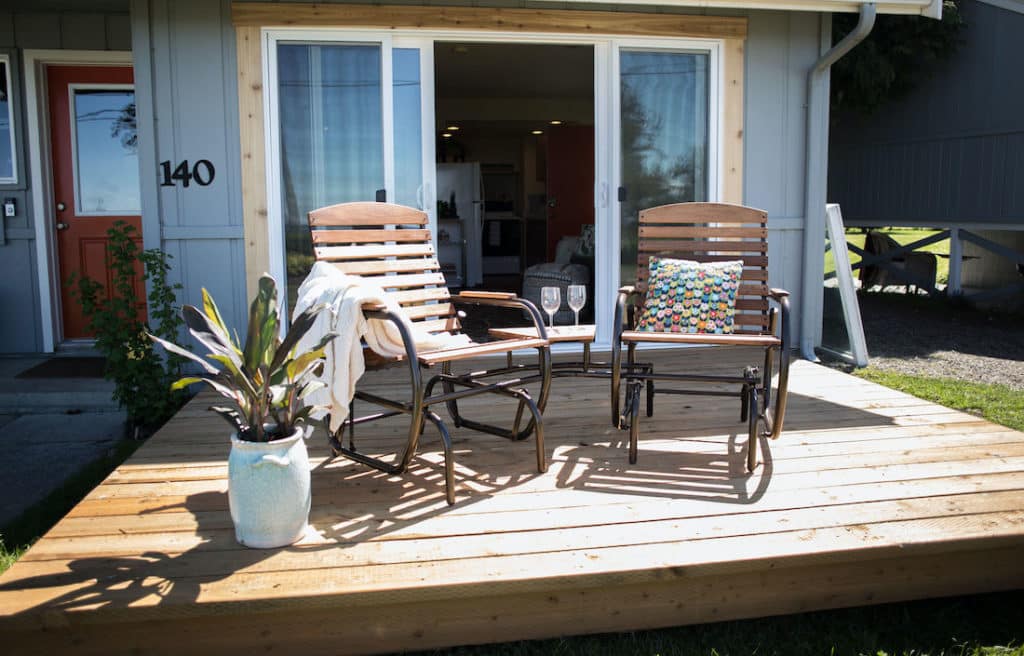 The Best Airbnb in Sequim for Your Next Getaway
The Dungeness Bay Cottages are located on the Olympic Peninsula and are the best Airbnb in Sequim for your next getaway. The area is a mecca for outdoor enthusiasts who come for the Olympic National Park, Olympic National Forest, and the Strait of Juan de Fuca. When you book our charming cottages, you'll be in the best-centralized location to explore all of the best things to do in Sequim and the outlying wilderness areas.
On-site at our Airbnb in Sequim, you'll have use of our sweeping lawns overlooking the beautiful water, access to the beach for bonfires and long walks, and private outdoor jacuzzi tubs. Inside, our cottages are fully equipped with the necessary amenities for the most relaxing vacation—whether that's a quick weekend trip or a longer, extended adventure on the Olympic Peninsula. Each of our cottages also has a kitchenette, ideal for those traveling with kids.
Now that you have your long and detailed list of all the best things to do in Sequim and where you'll stay, it's time to get your next trip on the calendar. Book your Airbnb in Sequim today!