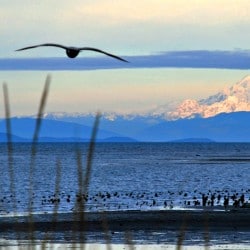 Memorial Day is nearly upon us, and for many that means that we are facing the unofficial start of summer. We certainly still have a few more weeks of spring to enjoy, but summer is on the hearts and minds of many. No matter the time of year, there's plenty to do in Sequim, and that is one of the best parts about visiting us at the Dungeness Bay Cottages. Guests come here to relax and enjoy our picturesque surroundings and incredible waterfront spaces. The best place for a beach walk is undoubtedly the Dungeness Spit and Wildlife Refuge.  Come explore this beautiful stretch of beach with us, and book your room at our beachfront cottages today.
Exploring the Dungeness Spit
The Dungeness Spit is the longest natural sand spit in the United States, and is visible from many of the mountain peaks that tower over the Sequim Valley.  In 1915, the Dungeness Spit was named a Department of Agriculture wild bird reservation.  Today, the Dungeness National Wildlife Refuge is managed by the U.S. Fish and Wildlife Service, and remains a publicly accessible, though protected, stretch of beach.  Leading down to the beach is a one-mile long scenic bluff trail.  From the scenic overlooks, it's possible to see Port Angeles to the west and Mt. Baker to the east, as well as a panoramic view of the Olympic Mountains.
Once down on the beach, you'll find a completely different habitat. The inner portion of Dungeness Spit is very protected from the harsh winds that can blow along the coastline.  This protected swatch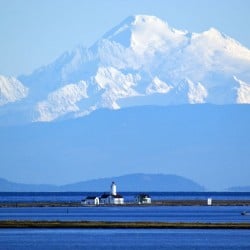 of land is a safe harbor for over 250 species of birds, 41 species of land mammals and eight species of water mammals, many of which are protected species themselves. Heron, eagles, loons, grebes, murrelets, puffins, harlequin ducks, scaup and black brant are just a few of the species you're likely to spot here.  Along the outer stretches of beach and amongst the driftwood, you're likely to find harbor seals basking in the sun on any given day.
If you have some time on your hands, you should definitely make the 5.5 mile walk all the way out to the Dungeness Lighthouse, located at the tip of the Dungeness Spit.  This lighthouse, the oldest lighthouse in continuous service north of the Columbia River, has been guiding ships to safety since 1857.  The Dungeness Lighthouse no longer has a permanent keeper, but it has been kept in operation by a group of volunteers who serve in one-week shifts.  Being a volunteer keeper is a popular activity for Sequim locals and tourists alike, and the wait list for the opportunity can be long. Tours of the Lighthouse are open to the public.
The charming, sunny town of Sequim is a special place to visit.  Book your room at the Dungeness Bay Cottages today, and come enjoy a small piece of paradise with us.