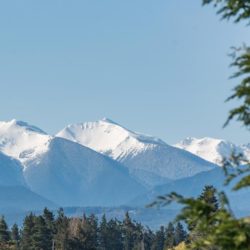 All it takes is one simple look around for visitors to fall in love with the Olympic Peninsula. Sequim, which is located in the rainshadow of the Olympic Mountains, enjoys more dry sunny days throughout the year than most other towns in the Pacific Northwest, making it a truly unique and wonderful travel destination. The biggest draw to for guests to visit us at the Dungeness Bay Cottages is the scenery. It's unbeatable. It also happens to be a great home base from which to explore the Olympic Peninsula, which includes one of the newest attractions, the Olympic Discovery Trail. Book your room at the Dungeness Bay Cottages in Sequim, and come experience the Pacific Northwest with us.
Biking the Olympic Discovery Trail
The Olympic Discovery Trail traverses almost 130 miles of the Olympic Peninsula, taking riders through some of the most beautiful scenery the Peninsula has to offer.  It is bordered on the south by the Olympic Mountain Range and on the north by the Strait of Juan de Fuca, opening up to some truly majestic views along it's entire length.  The trail has its origins in our neighboring town of Port Townsend, and goes all the way out to the shores of the Pacific Ocean.  All along the way, you'll encounter views of snow capped peaks, ocean vistas, fast flowing rivers, pristine lakes, and and the majestic forests of the Pacific Northwest everywhere you turn.
Sightseeing Along the Trail
It's easy to get lost in the beauty of the Olympic Discovery Trail as you travel from one end to the other.  However, there are also plenty of wonderful sights to behold as you traverse the Olympic Peninsula.  Here, we've highlighted just a few of the "must-see" destinations that lie along the Olympic Discovery Trail.
If you need to rent a bike for the day (or days), Sequim has several excellent bike shops. Ben's Bikes offers rentals and has a wide range of options including; mountain, comfort, road, children's bikes, and even doggie buggies for your small, furry family members. If you call ahead they will deliver to certain hotels, B&B's and inns for your convenience. No matter how you choose to enjoy it, the Olympic Discovery Trail is no doubt a fantastic way to tour the Olympic Peninsula, and the Dungeness Bay Cottages is the perfect place to start.  Book your room at our cozy beachside cottages today.