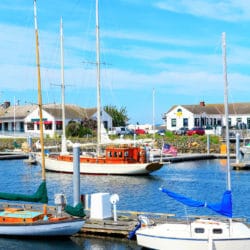 While Sequim itself is a perfect charming spot, and often a great place to enjoy a respite from the traditional northwest rain during the fall and winter months, there are also plenty of other great towns nearby worth visiting while you're here.  Sequim is the perfect place to use as your home base, as it's centrally located between most of the towns and attractions on the Olympic Peninsula, it offers exceptional attractions and activities, and there are great restaurants to choose from when it's time to refuel for the next day.  One possible day trip to take is just about 45 minutes to the east, to the quaint and historic town of Port Townsend. Book your room at the Dungeness Bay Cottages today, and come explore the Olympic Peninsula with us.
Day Trip to Port Townsend
Sequim is filled with plenty of great restaurants, charming shops and art galleries, and beautiful natural attractions, such as the Dungeness Spit National Wildlife Refuge.  But, if you're feeling adventurous and want to see what else lies in wait on the Olympic Peninsula, a day trip is a great way to explore. One of our other favorite towns to visit on a day trip is Port Townsend. Port Townsend is a quaint, Victorian Seaport Community that houses a thriving arts scene. Here are a few of our favorite things to do in Port Townsend:
Wake up in the morning to the indescribably beautiful views enjoyed out our cottage windows, which will do nothing but still your soul and inspire wanderlust. From there, hop around the Olympic Peninsula and enjoy everything this amazing place has to offer. If for no other reason than to enjoy the peace and tranquility of our private beachfront cottages, now is the time to book your room at the Dungeness Bay Cottages in Sequim.