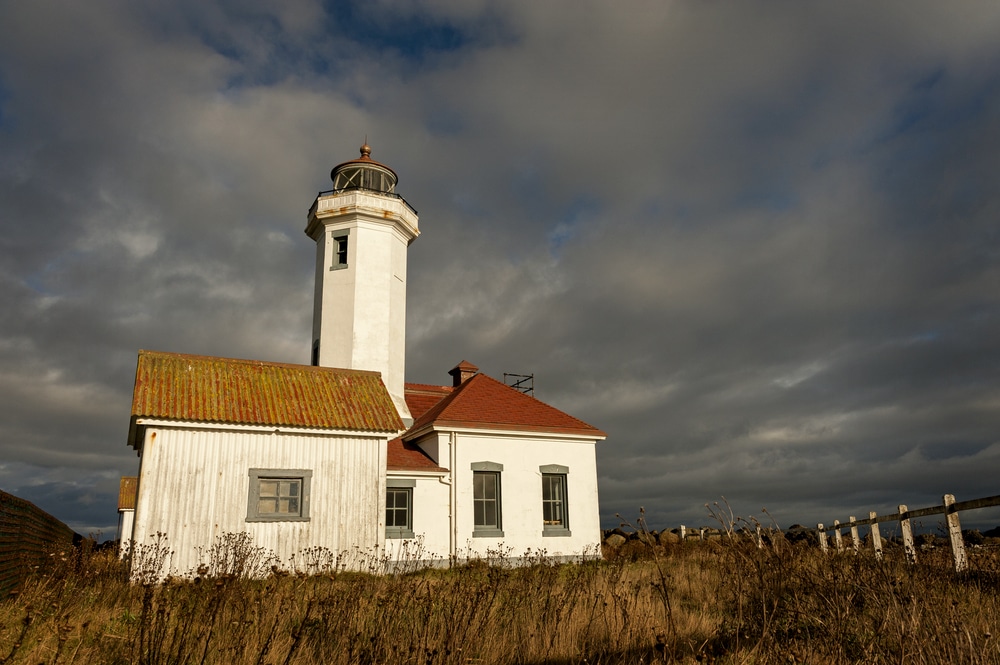 The Olympic Peninsula is a spectacular getaway destination, filled with an incredible range of things to see and do—and that includes visiting fantastic historic attractions like Fort Worden State Park. Located in the charming town of Port Townsend, which is itself a landmark destination, Fort Worden State Park is the perfect day trip from Sequim. The city is also filled with quaint Victorian architecture, great restaurants, plenty of antique shops, and exciting history.
In addition to being home to great attractions like Fort Worden State Park, Port Townsend is an extraordinary little seaport town with a vibrant arts community. The town is home to two different National Historic Landmark Districts, some truly excellent restaurants and shops, plenty of beaches and outdoor recreation to enjoy, and so much more. Thankfully, Fort Worden State Park is just under an hour's scenic drive from our lodging property in Sequim, WA.
Start planning your next trip to the Olympic Peninsula and book a cabin at the Dungeness Bay Cottages. Our property is the perfect place to leave the daily stress of life behind and experience the quieter pace by the water. We have no doubt you'll fall in love with it here! Each of our six beautifully appointed cabins are one of the best places to stay in Washington for a relaxed and active vacation. Book today!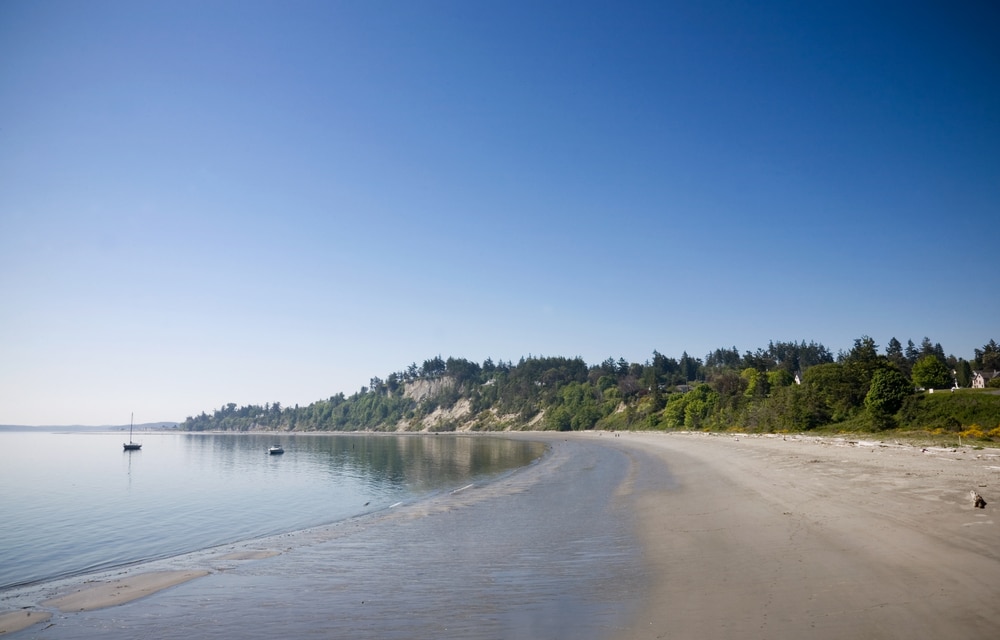 Explore the Beach at Fort Worden State Park
History buffs won't want to miss spending time in Port Townsend. Not only is the town itself filled with historic architecture, but it's also home to a fascinating World War II military installation, Fort Worden State Park. Nestled along a 2-mile stretch of shoreline in Port Townsend, Fort Worden State Park was strategic for the US military. It was constructed between 1898 and 1917, and at one time, this fort was home to up to 1,000 soldiers and officers.
In concert with the other nearby forts of Fort Flagler and Fort Casey, Fort Worden State Park was part of the coastal defense system known as "The Triangle of Fire." Here, you'll find hidden gun emplacements, old bunkers, expansive parade lawns, and even well-restored Victorian-era officer's quarters. And one of the best activities? There is a long, sandy coastline for picnics, catching some rays, reading, and building sandcastles. Fort Worden is a great place to visit with kids in tow!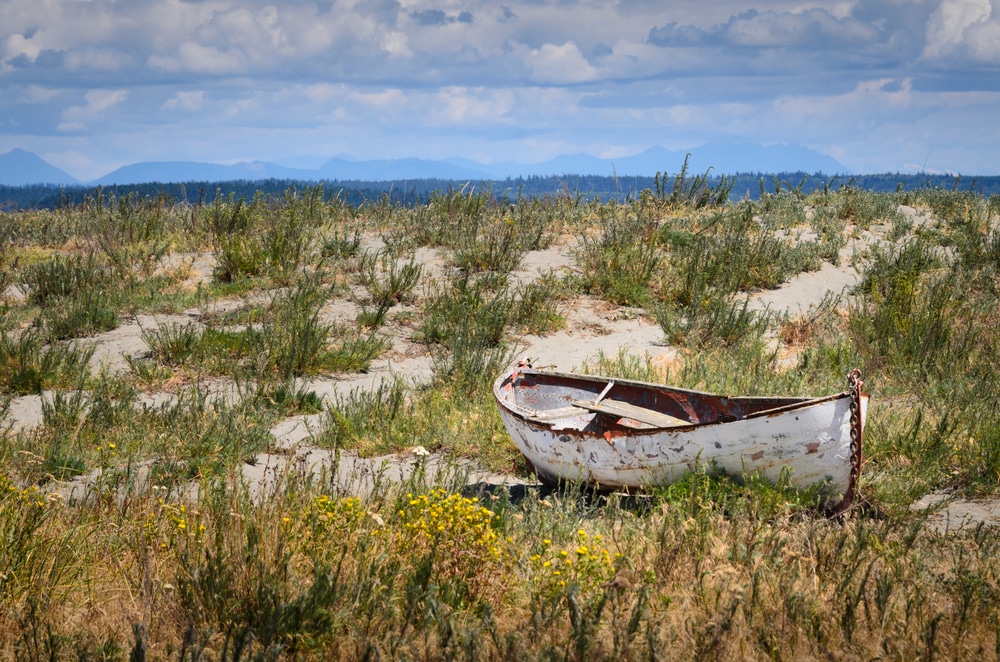 For a comprehensive glimpse of Fort Worden State Park's history, stop by the Friends of Fort Worden Gift Shop, grab a map and enjoy a self-guided walking tour of the park.
Here are some of the highlights of the top six things to do here:
Tour the 432-acre grounds with 73 historical buildings and four museums. More than one and half million visitors come to Fort Worden State Park annually.
Explore the grounds to this beautiful 1914 Point Wilson Lighthouse, still an active aid in seafaring navigation. They are still not offering indoor tours, but it's still worth getting an up-close view from below.
Hike along the 12 miles of trails in the park, more than two of which are ADA accessible. You'll also find two miles of shoreline, perfect for walks along the beach.
Walkthrough the abandoned network of military bunkers and tunnels, imagining what being stationed here must have been like in the early 1900s.
The Port Townsend Marine Science Center is located at Fort Worden State Park, pop in and check the exhibits, educational activities, and gift shop.
If you head to the park earlier in the day, be sure to check out Reveille at the Fort Worden Commons. The breakfast and lunch menu is available for dine-in, but a great selection of grab-and-go items to enjoy on the beach is also available.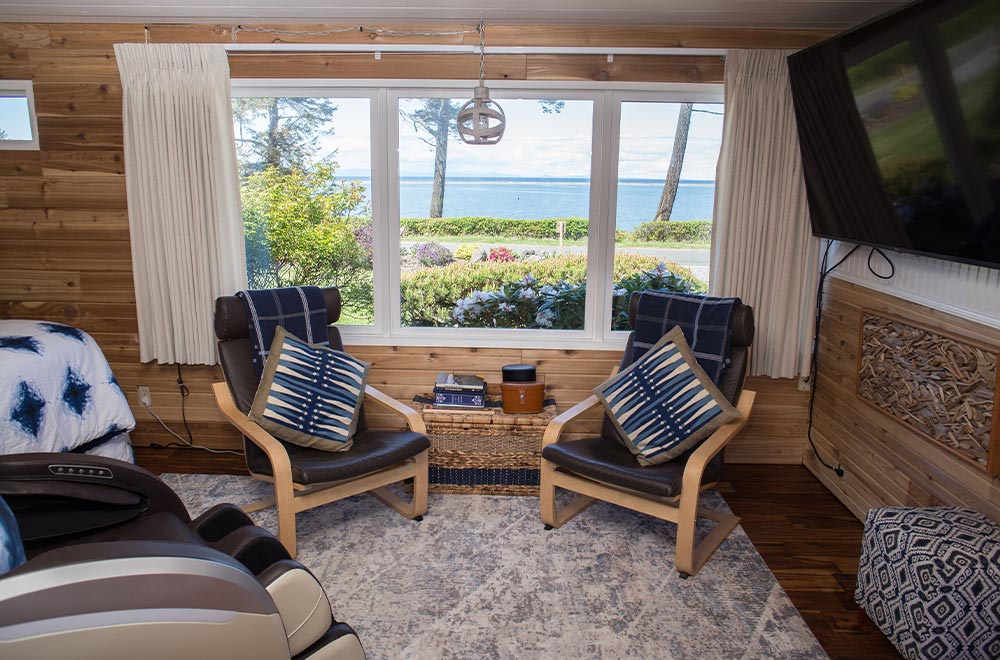 The Best Place to Stay on the Olympic Peninsula
When you book your stay at our Sequim waterfront cabins, you'll feel like you've found your own little slice of Pacific Northwest paradise. The view from each cottage and along our private beach is stunning, and you'll be looking out across the Dungeness Spit Lighthouse, the Strait of Juan de Fuca, all the way over to the San Juan Islands and Canada.
If you're looking for a location for a larger private gathering, we also have a shortlist of exceptional stand-alone vacation rental properties. The Green Point Getaway is a rustic meets modern build with a giant glass garage door that opens to beautiful views of the Strait. The Dungeness Bay Cottages are also ideal for multi-family getaways, as the cabins are all adjacent to one another and share the rolling green lawns with a fire pit, yard games, and picnic tables. Get your next vacation on the books and make your reservation today!