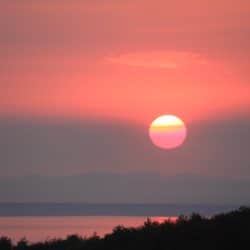 On the Eve of the New Year, it's time to start looking forward to all the wonderful things to come in 2019. Part of those plans should include a getaway to the charming Dungeness Bay Cottages in Sequim. You'll find that our cottages is well-situated near Sequim's top attractions, and come with unbeatable hospitality and service, a warm and romantic setting, and plenty of ideas and guidance from our friendly Innkeepers.  Valentine's Day is just around the corner, so there's no better time than now to start planning your romantic getaway!  Romance is our business, and no one does it better.  Book a getaway this Valentine's Day at Sequim's finest beachfront cottages, the Dungeness Bay Cottages.
A Beachfront Valentine's Day for 2019
The Dungeness Bay Cottages are unbeatable as a romantic getaway destination. You'll notice what sets us apart from our competition from the first moment you arrive on our doorstep.  The warm,  romantic atmosphere of our cottages, coupled with the exceptionally beautiful views out your private windows, captures the very essence of romance.  Though there's little reason to leave our serene environment, here are some of most romantic places for you to consider in Sequim:
Walk hand in hand along the beach at the stunning Dungeness National Wildlife Refuge.
Enjoy a romantic dinner at the Dockside Grill in the picturesque John Wayne Marina. Another wonderful place for a romantic dinner is Alder Wood Bistro.

Romantic happy couple at fall couple kissing in autumn garden

Go wine tasting at Wind Rose Cellars, or one of the 9 award-winning wineries on the Olympic Peninsula.

Take in the arts at Olympic Theatre Arts, or visit the many Art Galleries in downtown Sequim, such as The Blue Whole Gallery and the Sequim Museum & Arts Center.
On one of Sequim's many sunny days, head out in front of the Dungeness Bay Cottages to Cline Spit, and enjoy a scenic picnic on the Dungeness Bay itself.
Take a gentle kayak through the waters of Dungeness Bay.
Head to neighboring Port Townsend and enjoy dinner at Silver Water Cafe, before taking in a movie at the historic Rose Theater.
No matter how much or how little of the Olympic Peninsula you end up seeing while here, we know time spent at our cottages will be equal parts relaxing and memorable. Keep in mind that the romance doesn't stop on Valentine's Day. The entire month of February is dedicated to romance, and our cozy cottages are the perfect place to unwind, and to get cozy and romantic in Sequim! Book your romantic getaway this February at the Dungeness Bay Cottages!